Our upcoming documentary PRAY: THE STORY OF PATRICK PEYTON earned laurels as Best Documentary at the 2nd Annual God Country Family Christian Film Festival, held the weekend of Dec. 6-8 in Eau Claire, Wisconsin.
UPDATE: PRAY: THE STORY OF PATRICK PEYTON is available for digital purchase on a variety of platforms as of Dec. 18, 2020. Go to PrayTheFilm.com for details.
All the winning films are listed here.
Produced by Family Theater Productions in association with Windrider Productions, PRAY profiles the founder of FTP, Holy Cross priest Venerable Patrick Peyton (who, as you can see from the title Venerable, also has a sainthood cause in consideration at the Vatican). From the movie's official website:
PRAY: THE STORY OF PATRICK PEYTON is an inspiring documentary about a poor, uneducated Irish immigrant who sets sail for America in 1928 with nothing but his faith and dreams of becoming a millionaire. Arriving in Pennsylvania and unable to find work, he accepts the position as a janitor at the cathedral, which rekindles his long-lost desire to become a priest and changes the course of his life.
Nearing ordination, his life takes a radical turn when he is stricken with tuberculosis. Facing certain death, he sinks into despair. A visit from his mentor, who delivers a simple message to pray, lifts the darkness. Taking his advice to heart, Patrick prays fervently to Mary, the Mother of Christ, for her intercession, and he experiences a miraculous recovery.
Feeling deep gratitude, he dedicates his life to telling all the world about the power of prayer and encourages families everywhere to bring prayer into their homes. Never taking "No" for an answer, he convinces Hollywood's biggest stars to help him spread the message, "The family that prays together stays together," through the power of mass media including radio, television, and film.
Father Peyton's fame spreads around the world, and audiences in the millions flock to his public prayer rallies. This is the story of a tireless missionary, an unlikely hero, and one of history's greatest advocates for family prayer.
Written by Matthew Donlan and Megan Harrington (who's also a producer), directed by Jonathan Cipiti and featuring an original score by Grant Fonda, PRAY was filmed in places where Father Peyton lived and had an impact, including his hometown of Attymass, County Mayo, Ireland; Albany, New York; Hollywood, California, where FTP is located to this day, on Sunset Boulevard; and at Holy Cross Family Ministries' headquarters in North Easton, Massachusetts, home to the Father Peyton Center and the recently opened Museum of Family Prayer.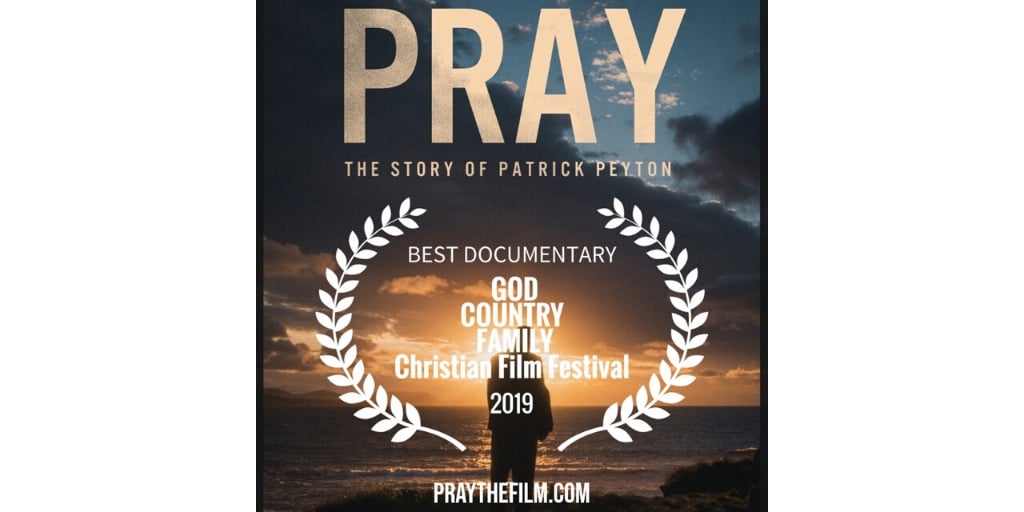 The producer/director team of Harrington and Cipiti previously teamed for FTP's groundbreaking documentary about the search for love in contemporary America, The Dating Project (go here to learn how to watch the film and download curricula for various ages and groups). They're currently at work on our next project, The House That Rob Built, which celebrates the long-running coach of the Lady Griz, the highly rated women's basketball team of the University of Montana.
Regarding the win by PRAY at the God Country Family Christian Film Festival, Harrington said:
We are grateful to the festival for selecting PRAY: THE STORY OF PATRICK PEYTON to be among the wonderful films showcased in Eau Claire this year, and beyond thrilled to receive the honor of best documentary.
FTP's Head of Production Father David Guffey, C.S.C., also an executive producer on PRAY, said:
Christians of all denominations found Father Patrick Peyton inspiring. We are so pleased the film we made to tell his story caught the attention of the people at the God Country Family Christian Film Festival. Very shortly, we should be able to give news about how others can see this film and experience the hope it brings.
To learn more about Father Peyton, visit the official site about him here. To learn more about the film and subscribe for updates, visit PraytheFilm.com, and follow us on Facebook and Instagram.
Image: Family Theater Productions
Keep up with Family Theater Productions on our website, Facebook, Twitter and YouTube.