Last year, Michael O'Neill of the EWTN series They Might Be Saints dropped by our offices on Sunset Boulevard in Hollywood, to talk to Father David Guffey, C.S.C., executive producer of our upcoming documentary PRAY: THE STORY OF PATRICK PEYTON.
The episode is finally here, airing Wednesday, June 3, at 1:30 p.m. ET (similar to cable-news channels, EWTN is live in all time zones, so that's 10:30 a.m. PT); and on Thursday, June 4 at 11 p.m. ET (8 p.m. PT).
Known as the "Miracle Hunter," O'Neill is usually scouring the world for news, history and other information on Marian apparitions, but in this series, he's looking at other ordinary humans who've had extraordinary encounters and relationships with the divine.
Like Venerable Patrick Peyton, in the future, "they might be saints."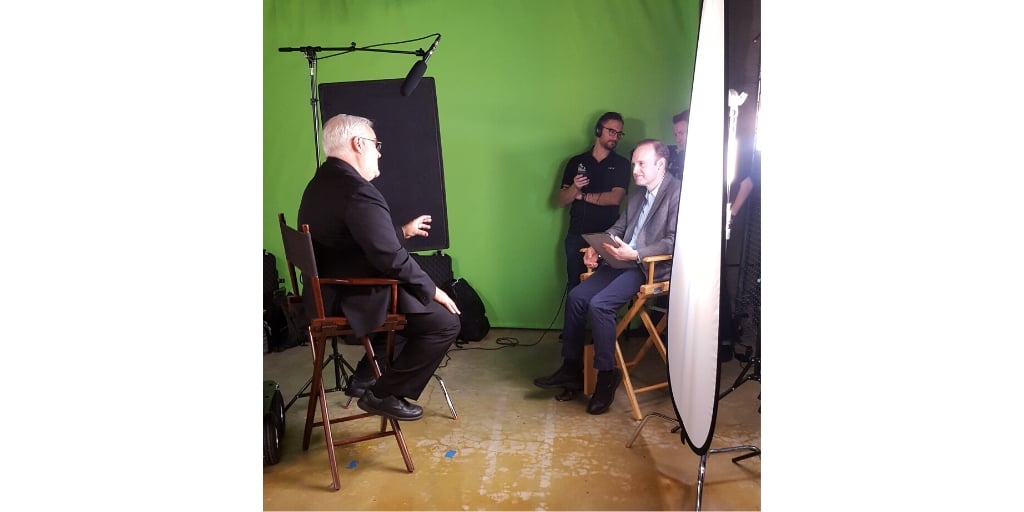 Due out this fall, PRAY: THE STORY OF PATRICK PEYTON tells the story of FTP's founder, Father Patrick Peyton, a Holy Cross priest who took to the road, the air, the airwaves and movie/TV screens to talk about Christ, the Virgin Mary and the power of family prayer, especially the Rosary.
Father Willy Raymond, who was the head of FTP for many years before becoming president of our parent organization, Holy Cross Family Ministries, released the following message:
Dear Friends,
It is a great joy to share good news with you and to request your prayers. The news concerns a television episode about our ministry's founder, Venerable Patrick Peyton, C.S.C., scheduled to air in June, 2020!
The latest episode of the program, They Might Be Saints, produced and presented by EWTN, features the bold and inspirational story of Father Peyton and will air on June 3 and 4, 2020. Providentially, Father Peyton's anniversary of death is June 3, 1992.
This popular TV series examines the lives of people on the path to sainthood. In late fall of 2018, program host Michael O'Neill came to The Father Peyton Center in North Easton, Massachusetts, USA, with his film crew to delve deeper into the story of Father Peyton.
I humbly ask your prayers that this program might have a positive impact on viewers around the world. We hope it will inspire families to pray together and come to know and support Father Peyton's Cause and mission as well.
Please tune in, and invite your family and friends to watch, too.
THEN, watch for the release of Family Theater Productions' inspiring documentary, PRAY: THE STORY OF PATRICK PEYTON, coming October 2020! Go to PrayTheFilm.com to subscribe for updates!
In Jesus, living in Mary,

Father Willy Raymond, C.S.C.
President, Holy Cross Family Ministries
Click here to learn about They Might Be Saints; and here to learn more about Father Peyton, the Apostle of Family Prayer.
EWTN can be watched live online here, on cable or satellite TV (click here for the channel finder), or through its app on such streaming devices as Roku and Apple TV.
And remember, as Father Peyton so memorably said, "The Family That Prays Together Stays Together."
Images: EWTN (top photo), Family Theater Productions (embedded photo)
Keep up with Family Theater Productions on our website, Facebook, Twitter, Instagram and YouTube.
Keep up with PRAY: THE STORY OF PATRICK PEYTON at its website, Facebook and Instagram.