MarVista Entertainment is proud to bring you NEXT LEVEL, a Loft Entertainment film in association with Family Theater Productions and Beverly Hills Teddy Bear!
Step aside High School Musical, because there is the NEXT wave of teenage talent dancing their way into our hearts this September! Starring top teen influencers, actors, singers and dancers Lauren Orlando, Emily Skinner, Hayden Summerall and Chloe Lukasiak -- NEXT LEVEL centers around a group of performers at the competitive Next Level Academy. The most pressing question of the summer… Who will earn this year's title of "Miss Next"? The comedy/drama is best described as High School Musical-meets-Mean Girls and features original music and dance numbers (with the music supervisor from High School Musical). The film's soundtrack features 12 songs and will be released before the film opens. NEXT LEVEL is opening in theaters TODAY, September 6, 2019, and will be available simultaneously for On Demand and Digital HD download (click HERE for details on how to watch).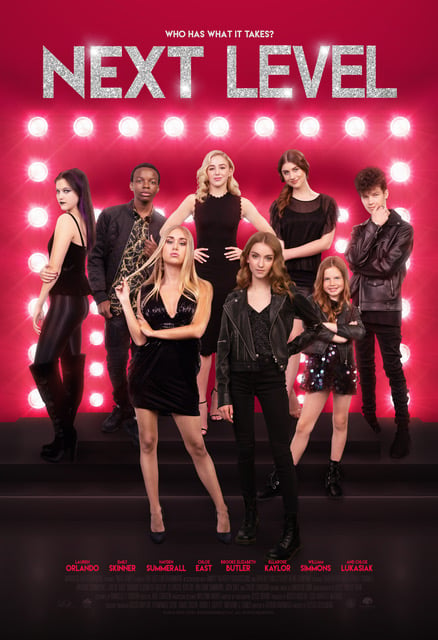 More about the film: The comedy/drama centers around the new girl at Next Level Academy, Kelly Hatcher (Lauren Orlando), and former "Miss Next," Cindy Stallings (Emily Skinner), who is not thrilled to discover that she will be Kelly's new roommate and considers her a threat to keeping her coveted title. Kelly must navigate being bullied by her roommate, with the help of her crush next-door, Connor (Hayden Summerall), and the youngest at the academy, Josie Parker (EllaRose Kaylor). After many ups and downs, it's time for the final competition hosted by JJ (Chloe Lukasiak), a former Next Level Academy star. Cindy eventually learns that there are two different paths you can take when involved in a competition: making friends who will go through the journey with you, or bullying everyone because you think it will make you better than them.
Click HERE to find how to watch,whether digitally or in person.
Here's a sneak peek:
Images: NEXT LEVEL: Courtesy MarVista Entertainment
Keep up with Family Theater Productions on Facebook, Twitter and YouTube.