Family Theater Productions' Emmy®- winning 2020 documentary The House That Rob Built celebrates the 38-year career of Rob Selvig, coach of the Lady Griz women's basketball team at the University of Montana.
But within that story was another story, one of grit, grace and the true warrior spirit -- the saga of Native American athlete Malia Kipp.
Malia Kipp, Hoops Trailblazer
In 1992, Kipp (Blackfeet) joined the Lady Griz, as Coach Selvig's first (but definitely not last) recruit from a Montana reservation. In 2007, Kipp -- now a tribal nurse -- was inducted into the Montana Native Athletic Hall of Fame.
Other Native athletes have followed at the University of Montana in Missoula, many inspired by Kipp's example ... and a love for the game.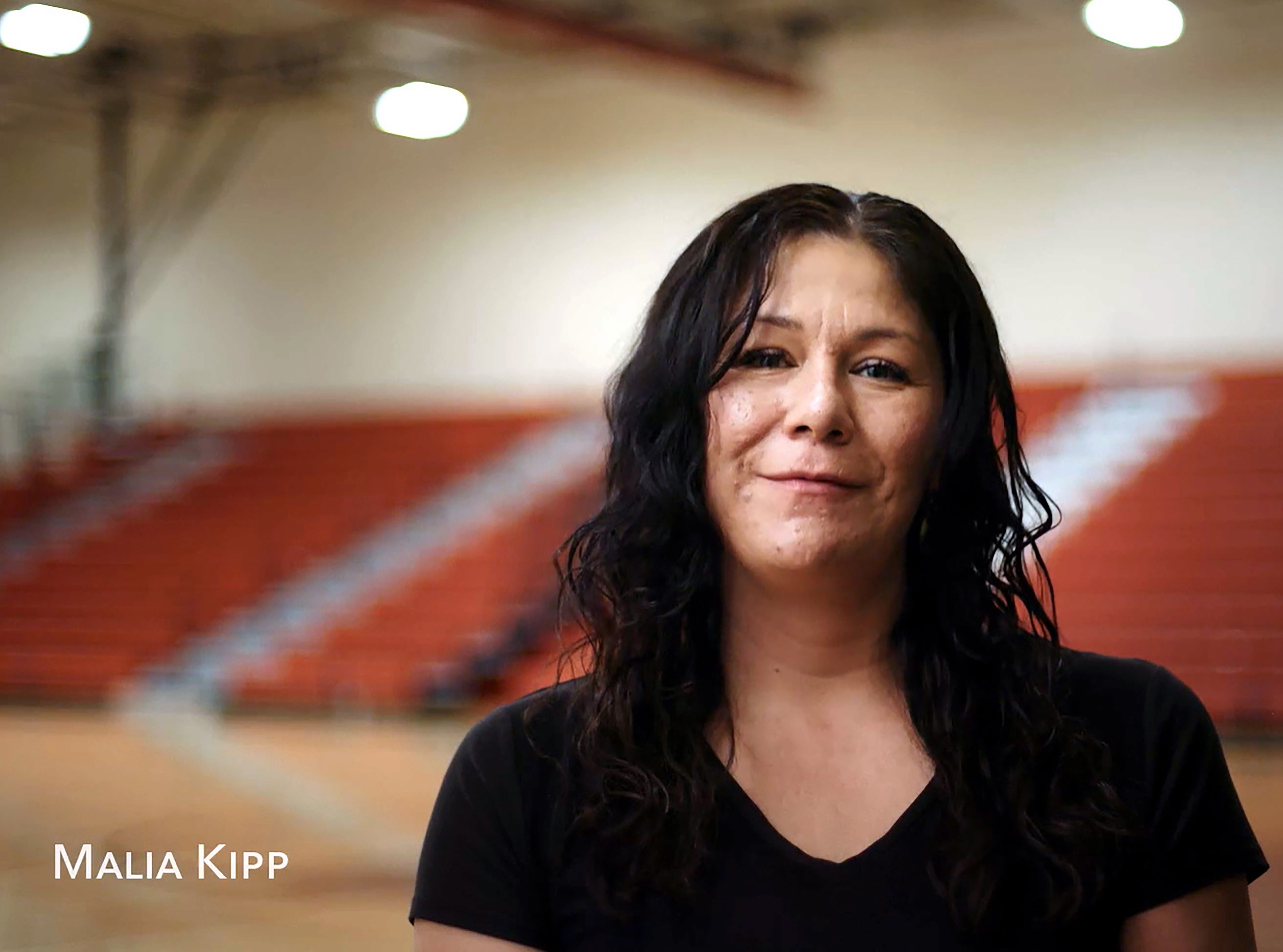 Native Athletes and Basketball
Native Americans have a long association with basketball, beginning with its introduction into government and missionary-operated boarding schools in the late 19th century.
Native players have even developed a fast-paced, specific form of basketball, nicknamed Rez Ball (short for reservation basketball) -- and teen athletes have taken those quick skills into school sports.
Netflix took notice, with the 2019 documentary, Basketball or Nothing, following the Chinle High team in Arizona's Navajo Nation on a quest for a state championship.
New York Times reporter Michael Powell, wrote a 2019 book about the Chinle High team, called Canyon Dreams: A Basketball Season on the Navajo Nation.
Now, a production company owned by NBA superstar LeBron James is working on a fictional adaptation, also for Netflix, called Rez Ball.
The House That Rob Built Comes Home to Honor Native Athletes
Within the larger story of Selvig's tenure with the Lady Griz, The House That Rob Built included Kipp and other female Native American basketball players. Now, the film and the reality of the affinity many Native Americans have for hoops are coming together in a special event.
For the first time, the University of Montana is playing host to N7 basketball games. As the university describes the N7 initiative:
The N7 program is a Nike initiative, led by Fort Peck native Sam McCracken, that shows Nike's long-time commitment and mission to inspire and enable 2 million Native America and Aboriginal youth in North America to participate in sport and physical activity.
In addition to the two games (set to be broadcast on streaming service ESPN+) -- the Lady Griz host Portland State on Saturday, Jan. 28, and the men host Northern Arizona on Saturday, Feb. 4 -- the celebration also includes a free screening of The House That Rob Built on Friday, Jan. 27.
The film will screen where Selvig coached his games, in the university's Dahlberg Arena, where the Division I basketball teams' court will be named for Selvig next month.
Former Lady Griz player, and FTP Senior Producer, Megan Harrington is the film's producer, writer and co-director (with Jonathan Cipiti).
From the university's GoGriz blog:
...Selvig, known to many as a pioneer for giving Native American athletes opportunities at the Division-I level, is one of the only non-Natives to be inducted into the Indian Athletic Hall of Fame.
He and his wife, Janie, along with five Native former Lady Griz players, will be recognized on the court during Saturday's game and will be on hand during Friday's free screening.
...Afterward, there will be a meet-and-greet on the court with Selvig and returning Lady Griz players Malia Kipp (Blackfeet), Tamara Guardipee (Blackfeet), Simarron Schildt (Blackfeet), LeAnn Montes (Chippewa-Cree) and Corrie Villegas McDonald (Salish-Kootenai).
Time to Tell Malia Kipp's Whole Story
Now, Kipp is getting a film of her own. Family Theater Productions recently completed the half-hour documentary Native Ball: Legacy of a Trailblazer.
The film tells Kipp's story from her childhood in Browning, Montana, to her high-school and college careers and beyond -- including a moving ceremony in which her tribe awarded her a coveted eagle feather and dubbed her a warrior.
Take a peek:
Native Ball: Legacy of a Trailblazer makes its world premiere at the Big Sky Documentary Film Festival (where The House That Rob Built made its festival premiere to three sold-out houses in early 2020), taking place from Feb. 17-26 in Missoula, Montana.
Native Ball screens as part of a short-film block at 3 p.m. on Saturday, Feb. 25, at the historic Wilma Theater.
Where Native Ball will be seen in the future is still under consideration, but The House That Rob Built can be rented or purchased (click here for all that), and streams for free on Tubi.
Images: (TOP) Montana forward Keeli Burton-Oliver models the special turquoise uniform the team will wear for Saturday's home game. Photo: UM Sports Information. (EMBEDDED) Malia Kipp today. Photo: Family Theater Productions
Kate O'Hare, a longtime entertainment journalist, is Social Media Content Manager at Family Theater Productions.
Keep up with Family Theater Productions on Facebook, Twitter, Instagram and YouTube.