One of the most influential children's stories ever gets the Disney live-action remake treatment with Peter Pan & Wendy, currently streaming on Disney+, drawing heavily from the studio's 1953 animated classic.
Featuring an energetic young cast elevated by Jude Law's scene-stealing turn as Captain Hook, it's an entirely serviceable version of this timeless tale — though not particularly memorable.
From opening shots in the Darling home in London, anyone who has seen Disney's animated musical will feel right at home.
Siblings Wendy (Ever Anderson), John and Michael Darling head to bed, only to be awakened by Peter Pan (Alexander Molony), the boy who wouldn't grow up.
This film's composer weaves in "You Can Fly," among other inescapable tunes later, but none of the main characters break into song in this adventure.
As a critic of Disney remakes — especially last year's Pinocchio, CGI-heavy The Lion King, and those dreadful Alice movies — I've also praised a few in this genre.
In retelling the beloved story of a journey to Neverland, Peter Pan & Wendy allows for few creative flights of fancy. Viewers know it all too well: flying over vast oceans to a magical island, Hook's pirate ship, the Skull Rock cave with slowly rising water, and the Lost Boys' forest home.
The changes this version makes are mostly aesthetic, with a small twist that aims to underline themes of how growing in maturity requires a moral ballast.
Embracing diversity in casting
With Disney pushing boundaries on progressive social issues in recent years — from Lightyear to even Disney Junior animated shows — many are understandably skeptical of any Mouse House production.
In this remake, writer-director David Lowery hews closely to the source material: both J.M. Barrie's original play and the iconic Disney flick.
Personally, I see no reason why a fantasy story shouldn't have greater ethnic diversity and female characters elevated beyond "damsel in distress."
Walt's original Peter Pan famously features Tinker Bell drawn as a curvy sex symbol, with her and Wendy in a love triangle for Peter's affection.
This version does away with that plot thread entirely. In fact, while Black actress Yara Shahidi turns in a fine performance, Tinker Bell is given little to do compared to other versions.
The same could be said of Native American princess Tiger Lilly.
While I don't want to see the animated film altered to suit modern sensibilities, the Native American sequence is so outdated and full of racist tropes, my wife and I have avoided having our kids see it.
Here, Tiger Lilly is seen only in group scenes with the Lost Boys (which now includes several girls as well, although nobody in the film seems to think that having girls identified as Lost Boys makes much of a difference -- whatever you care to make of that.)
The princess uses her warrior skills (because so many female characters now must have warrior skills) and wisdom to help the Darling children, only presenting as a threat when they first encounter her.
Even some more unusual diversity
A praiseworthy bit of casting comes with Noah Matofsky, an actor with Down syndrome who portrays one of the Lost Boys.
"As captain of the Lost Boys, Noah's character Slightly shows that Down syndrome never needs to hold you back," said his mother in a recent interview. "It's not a learning difficulty — it's a learning difference, and we should embrace differences."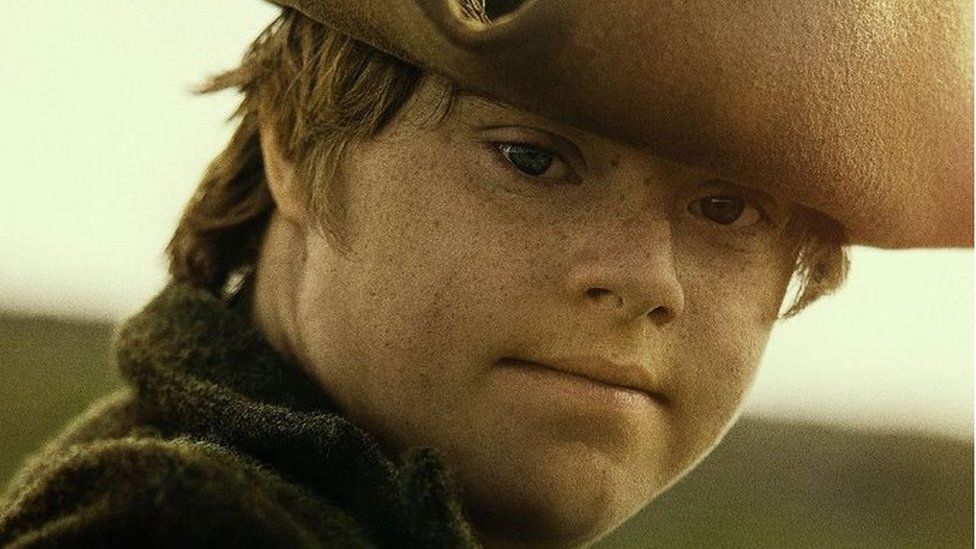 But, is it "woke" or scary?
So there's nothing terribly "woke" about this version. A few scenes depict a high level of peril that will frighten some young children under age 5 or 6.
While it's played in a comic way, Captain Hook disposes of a couple of his pirate crew in his introductory scene. But the body count doesn't go up beyond that.
Mostly it's a lot of swordplay that kids will enjoy in spades.
First star to the right and straight on to streaming
Despite the constraints of a straight-to-streaming budget, director Lowery, known for The Green Knight among other avant-garde films, added some flourishes to this capably crafted film.
One tracking shot near the start, where a camera follows Wendy up a winding staircase ... I'd really love to know how they pulled it off.
In Peter Pan & Wendy, CGI often seems unpolished, with flying scenes looking more awkward than wondrous.
There's plenty to applaud here, as Lowery once again poured his passion and soul into an all-ages adventure — though if you look close enough, the seams are showing a bit.
Good moments are present, but they fly by
As a filmmaker, Lowery focuses more on creating an atmosphere than developing personalities on-screen. Some of that works well in this adaptation.
For instance, the addition of a couple of pirate shanties (the film's only songs) establish their threat while highlighting camaraderie.
Yet, after a fast-paced 106 minutes, many viewers will be left thinking they hardly knew these characters.
Aside from PG-level violence involving swords and some era-appropriate guns, most parents will find little objectionable in this fantasy adventure.
How does it stack up to the other remakes and spin-offs?
Peter Pan & Wendy is far better than 2015's alternate-origin story Pan, which is basically unwatchable. But it's not as good as Spielberg's Hook (1991) starring Robin Williams, the ideal version for ages 8 to 12, with its older themes and frightening action scenes.
Universal Studios' 2003 Peter Pan does a lot more to develop the iconic characters.
For kids just before or entering elementary ages, Peter Pan & Wendy introduces a story about growing up and life's perils in a relatively safe and saccharine narrative that celebrates friendship, loyalty, and even the virtue of mercy.
Images: PETER PAN & WENDY, exclusively on Disney+. Photo by Eric Zachanowich. © 2023 Disney Enterprises, Inc. All Rights Reserved.
Josh M. Shepherd covers culture, faith and public-policy issues for various media outlets. He and his wife are raising two children in Northern Virginia.