On Jan. 4, Fox premiered the reality/competition series Special Forces: World's Toughest Test, in which 16 celebrity recruits took on a challenge inspired by actual Special Forces selection processes, set in the unforgiving desert area of Wadi Rum in southern Jordan.
The original 16 were: retired NFL star Danny Amendola, singer Mel B, reality-TV stars Hannah Brown and Kate Gosselin, chef Tyler Florence, basketball player Dwight Howard, singer/pastor Montell Jordan, skier Gus Kenworthy, gymnast Nastia Liukin, soccer player Carli Lloyd, actresses Beverley Mitchell and Kenya Moore, retired MLB star Mike Piazza, physician and talk-show host Dr. Drew Pinsky, financier Anthony Scaramucci and actress/singer Jamie Lynn Spears.
By the end of the two hours, four recruits had to drop out (one voluntarily, three for medical reasons).
Mike Piazza was not one of them.
Who Is Mike Piazza, and What Is His History With FTP?
The retired catcher played 16 seasons in Major League Baseball and was inducted into the National Baseball Hall of Fame in 2016.
A husband and father of three, Piazza is also a devout Catholic. In late 2009, he joined fellow Catholic baseball stars Mike Sweeney and Bobby Keppel to tape Family Theater Productions' Faith Bowl III (click here to watch).
Sponsored by the Knights of Columbus, Catholic Athletes for Christ and FTP, the special featured the trio talking sports, faith and fatherhood. It aired on several Catholic broadcast outlets on Super Bowl Sunday, Feb. 7, 2010.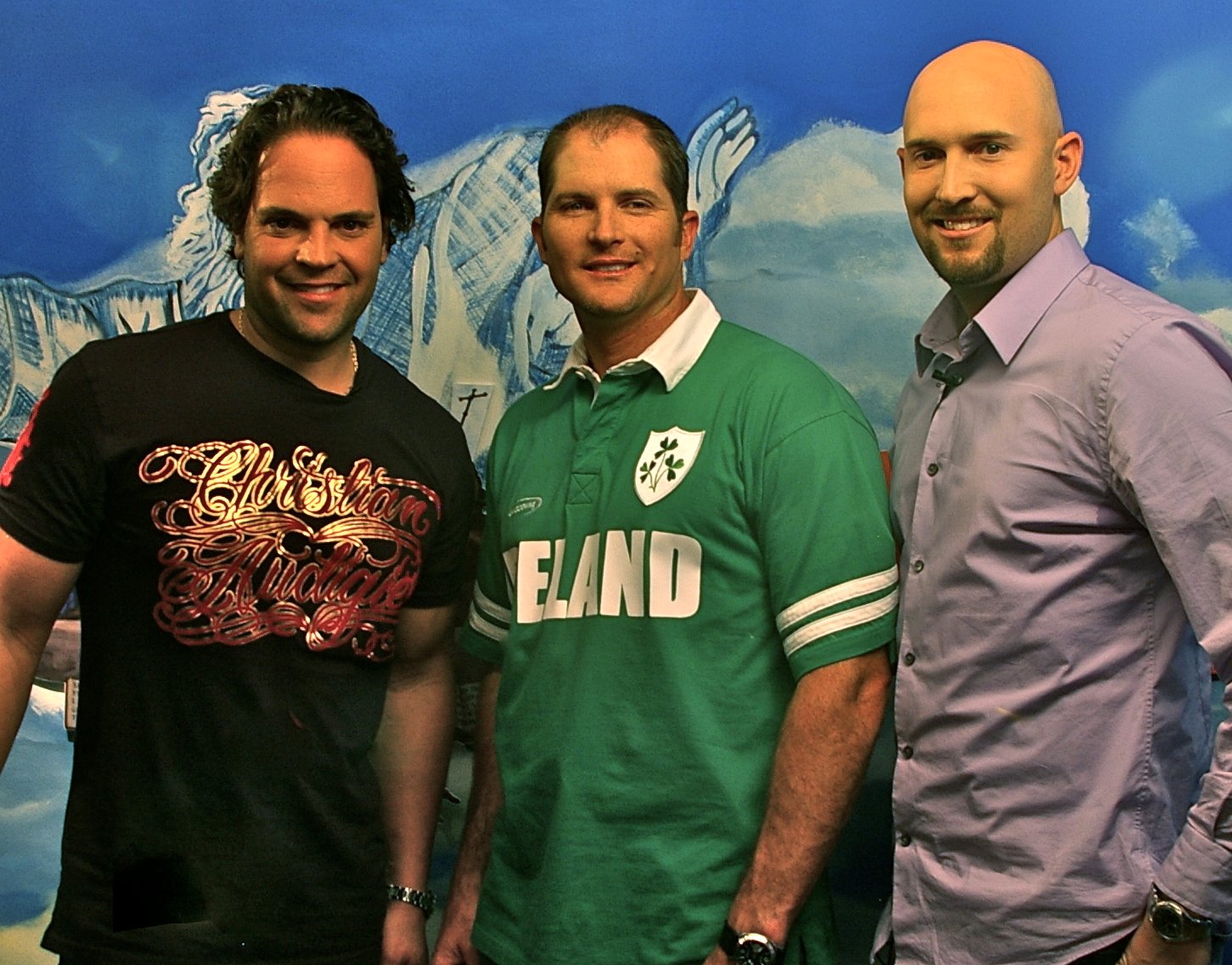 (L-R), Mike Piazza, Mike Sweeney, Bobby Keppel/Photo: Family Theater Productions
The Challenge of Special Forces
In Special Forces, Piazza sought to take himself to places he'd never been before.
Speaking at a press conference before the series premiere, Piazza said, "This experience pushed you past the point of exhaustion, unlike anything probably all of us ever ... experienced -- even the athletes here who have trained professionally.
"When you get to the point of pure exhaustion, then you go into some alternative survival mode. From there, it's fight or flight. You find yourself reacting in ways that you never thought were possible, both good and bad, for that matter."
The Power of Vulnerability
The show's tests were meant to be grueling and even dangerous. Even in just the premiere, it was sometimes surprising which contestants pulled through and which ones stumbled.
"For me," said Piazza, "it was just the strength in everyone's vulnerability. ... That was the biggest thing for me, was the respect that I found for everyone and for people who don't come from an athletic background.
"To go into a scenario like this and how how incredibly tough they were, they earned my respect."
The Importance of Faith
I got to ask Piazza about how his strong Catholic faith came into play.
He said, "I don't see how you couldn't have faith after doing this show. ... The two things that I felt from my faith life that came into this, was that we're called to serve -- in this environment, we all served each other -- and we're called to love each other.
"At least in my perspective, as a Christian, you know that that's what you're called to do. So, this was sort of a real-life example of that.
"It really allowed me to be vulnerable and to rediscover my appreciation for this country, for what these guys and done for us and their comrades, and the sacrifices they made."
Special Forces: World's Toughest Test airs Wednesdays at 8 p.m. ET/PT on Fox; after airing, episodes also stream online and on Hulu.
Here's a peek from Fox of Piazza on the show:
Image: Mike Piazza. Special Forces: World's Toughest Test. CR: Pete Dadds / FOX
Kate O'Hare, a longtime entertainment journalist, is Social Media Content Manager at Family Theater Productions.
Keep up with Family Theater Productions on Facebook, Twitter, Instagram and YouTube.