Last night, Warner Bros. Television and The CW put on a screening and reception for A Waltons Thanksgiving. Premiering Sunday, Nov. 20, on The CW, it's a follow-up to The Waltons: Homecoming, last year's Christmas-themed movie on the network.
What Is A Waltons Thanksgiving?
That film was a re-imagining of the classic 1970s-'90s TV/TV-movie series The Waltons, created by Earl Hamner, Jr. It delivered The CW's highest viewership for the 2021-2022 season.
Original Waltons star Richard Thomas, who played the eldest son, writer John-Boy, does on-screen introductions and narrations for both films.
A Waltons Thanksgiving is as warmhearted as the first film and definitely TV comfort food.
One of the main early plot points hinges on worries about how blue-ribbon-winning pie baker Grandma Walton might react to perhaps not winning the top prize at this year's Harvest Fair -- so this is not an edge-of-your-seat thrill ride.
There's some minor peril in the film, and the issue of child abuse (not among the Waltons, though) is touched upon. But the film is squarely in the family-friendly area.
And, as one TV critic said to me at the reception afterward, he saw the end coming but got all misty anyway.
But the most intriguing part of the evening came before we were served Thanksgiving dinner in an outdoor replica of the Harvest Fair (carnival games and prizes included).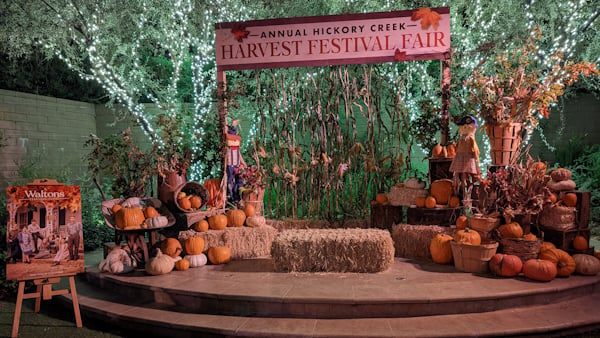 Photo: Family Theater Productions
New Respect for Family-Programming Honors
Before the screening, held at the Garland Hotel in Studio City, California (founded by My Three Sons star Beverly Garland), Channing Dungey, chairman of the Warner Bros. Television Group, said a few words.
Among her comments were congratulations to The Waltons: Homecoming on winning awards from both The Christophers and Movieguide, both of which honor uplifting -- including faith-based -- productions.
While these awards are considered prestigious among those who produce faith-based and family programming, it's rare to see the head of a mainstream studio tout winning them as major accomplishments.
Things Are Changing at The CW
Also, the event itself was noteworthy, since The CW has recently undergone an ownership change. Station-groups owner Nextstar took over the broadcast network, originally conceived as a partnership between CBS/Paramount and Warner Bros. TV (now merged with Discovery).
According to published reports, little of the network's current lineup -- which includes many superhero shows produced by Warner Bros. -- is likely to survive after this season. Several have already been cancelled.
And there's no guarantee that the founding studios can place programs on The CW in the future.
Speaking to the waning presence of WBTV and CBS/Paramount programming, Nexstar CEO Perry Sook said during the same earnings call, "Warner and Paramount are not precluded from selling us programming. It's just going to have to be a financial deal that we like." (It was reported earlier this month that Nexstar will put a "$1 million-per-episode" ceiling on future licensing fees, a marked drop from what many series currently bill the network.)
"And there may be a couple of shows that distinguish themselves this year," Sook added, "that we want to hold over to next year."
What Does A Waltons Thanksgiving Mean for The CW's Future?
So, the party could signify a new commitment on the part of Warner Bros. TV and The CW to more family programming, especially if A Waltons Thanksgiving performs as well as its predecessor.
Dungey gave all credit to executive producer Sam Haskell and his Magnolia Hill Productions, which did the first Waltons movie and also produced two highly rated Dolly Parton-inspired holiday films for NBC.
Working with Haskell on the project was Billy Levin, Magnolia Hill's vice president of development, who also spoke. He said:
The Waltons family is truly beloved. For those that grew up watching it to newcomers alike, everyone can enjoy this type of family programming.
When we're shooting in Georgia, I cannot tell you how many folks, young and old, are delighted to hear that we're making something wholesome. That's no Hollywood BS, it's real.
There's an entire market between New York and Los Angeles that sadly no one seems to be addressing, but those audiences are the ones that we aim to entertain.
Richard Thomas was also on hand, and he said:
I'm so grateful to CW for giving us a home where we can tell these stories about family and community and love.
When The Waltons hit the air, it was a very fractious time in our country. There was a lot of alienation, a lot of anger, a lot of division. And The Waltons was a safe place to come be every Thursday night where we could sort of reengage with our faith in being human.
I'm very happy to see that, especially during this time in our lives as Americans, there's a safe haven to go to again and that the doors of the Waltons' home are still open for everybody.
A Waltons Easter?
When The Waltons: Homecoming hit The CW last year, there was nothing like it on the network's schedule, which largely appealed to teen girls and comic-book fans.
Dungey hinted that Warner Bros. TV may be willing to do more Waltons movies, perhaps even an Easter one.
It'll be very interesting to see, if that third Waltons movie hits The CW next season, whether it looks out of place or right at home.
Image: "A Waltons Thanksgiving" Pictured (L - R): Logan Shroyer as John Boy Walton, Teddy Sears as John Walton, and Bellamy Young as Olivia Walton -- Photo: Tom Griscom / The CW -- © 2022 The CW Network, LLC. All Rights Reserved.
Kate O'Hare, a longtime entertainment journalist, is Social Media Content Manager at Family Theater Productions.
Keep up with Family Theater Productions on Facebook, Twitter, Instagram and YouTube.