Hitting digital and DVD/Blu-Ray today, Feb. 23, the new documentary The House That Rob Built begins at the beginning of the earth-shaking change in women's sports that was Title IX, and shows how one dedicated coach helped change the lives of generations of female athletes.
An Unlikely Story of Success
In 2015-'16, Robin Selvig, a native of tiny Outlook, Montana, coached his 38th and final season with the Lady Griz of the University of Montana, where Selvig had also played hoops in the early 1970s.
In 1978, he took on the women's team which, at the time, barely had equipment or locker rooms. By the time he retired, the Lady Griz under Selvig had won 865 games, had 36 winning seasons, 31 20-win campaigns, 24 conference championships and 21 NCAA tournament appearances. His peers voted Selvig as conference coach of the year 21 times.
And he did it with young women recruited largely from Montana's small cities, tiny towns, ranches and Native American reservations.
A Player Returns to Honor Her Coach
One of Selvig's former players, producer Megan Harrington, took on the passion project of chronicling his life and those of his players. Currently a staff producer at Family Theater Productions, she also convinced the company to take on the project.
The result is a rousing, inspirational film, co-directed by Harrington and Jonathan Cipiti (flanking Selvig in the photo below), who previously teamed on FTP's The Dating Project and PRAY: THE STORY OF PATRICK PEYTON, with an equally stirring original score by Grant Fonda (profiled here), their partner on the earlier projects.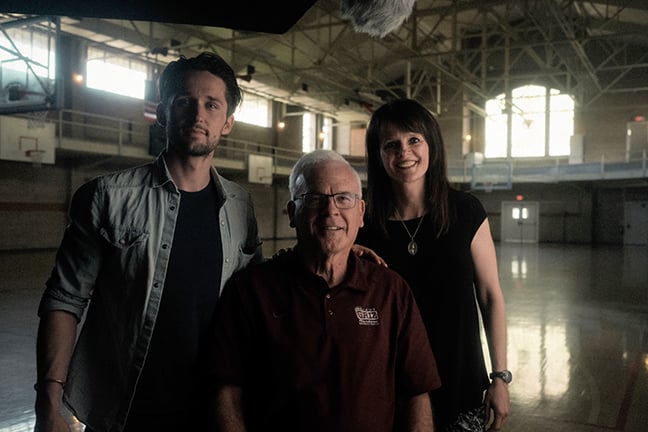 The Enduring Sisterhood of the Lady Griz
Shooting and then viewing the film has been an exercise in nostalgia for Selvig, who says, "you don't really look back all that much while you're coaching."
Asked what revelations this trip down memory lane brought, Selvig says, "In any job or with any coach, you always think you could have done something differently, or every little game situation's easy to second-guess.
"I guess it was kind of, 'Wow, I didn't realize how connected all the Lady Griz were from start to finish.'"
As shown in the film (and in the photo at the top), past and present Lady Griz players gathered for a reunion and a party for their newly retired coach. Selvig was surprised how many had come, and how their sisterhood had remained strong.
"That was such a great experience," he says, "just to see ladies from my first team buddies with ladies that were still playing for me. ... That was really cool, to see how connected they all were and how they've all done well.
"I mean, I could look at every one of them and have a great memory to share with them."
Recognizing Native American Talent When He Saw It
The House That Rob Built also celebrates Native American women who played for the Lady Griz. It's not an angle normally seen in basketball films, but for Selvig, recruiting from reservations was a no-brainer.
"I didn't think about any history being made," says Selvig. "I am a Montana native, and there's seven reservations in this state. I certainly wanted to get them if they're good enough, any Montana athlete.
"We represent the state of Montana, and I'm just as proud and happy of all the out-of-state kids I recruited, but basketball's a really big thing in the Native American culture.
"I've played on the men's side and seen lots of them, great players, but they were never able to go and be in college. So, I felt I wanted to give them an opportunity if they were good enough, and Malia Kipp was good enough.
"She was the first one, and she made it. I don't know how she said it in the film, but it was good. It wasn't, 'Give us an opportunity,' it was, 'Recognize our ability.' It was a good point."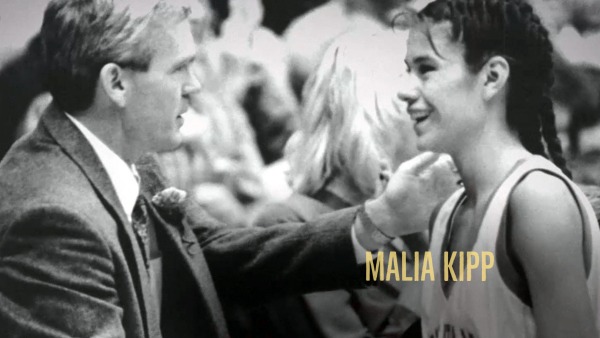 Montana Has a Big Sky, a Small Population and a Willingness to Change
Selvig's success might not be so noteworthy if he were at, say, UCLA in Los Angeles, with 45,000 students, in a city of 4 million people, recruiting athletes from all around the country and the world. Instead, he was at UM, in Missoula (population about 74,000) with roughly 11,000 students, with only a little over a million people in the whole state.
But, Selvig says, when Title IX required the school to begin to fund and equip women's sports, the University of Montana had a remarkably progressive attitude.
"I always felt supported," he says, "in its march towards giving women the opportunities. I think a lot of programs in college got drug along, kicking and dragging, 'Oh, we've got to have a women's program. This money's going down the drain, and we had to drop wrestling.'
"I felt here, they wanted to do it right and not work against it. So, that's good for the University of Montana. And the story, like I've told Megan, is not a story about Robin Selvig; it's a story about the growth of women's sports in the last, I guess, it's 40 years now.
"Our program was part of that, and little Montana towns and kids from these little Montana towns are part of that. And how they took advantage of an opportunity that their parents didn't have. They had a chance ... to go to college on a scholarship, play in a big gym in front of a big crowd. So, it's an aspirational thing."
Finding Inspiration Across the Street
It was also an aspiration for filmmaker Harrington, as Selvig recalls, "She lived across the street, and she wanted to be a Lady Griz. So, ladies ahead of her generation were a role model to her, that she wanted to emulate.
"I think I've been fortunate just because 100% of the ladies that ever played for me are worth emulating."
The House That Rob Built is available on digital and on DVD/Blu-Ray; click here for the movie's homepage, and here for where to find it.
Images: Family Theater Productions
Kate O'Hare, a longtime entertainment journalist, is Social Media Manager at Family Theater Productions.
Keep up with Family Theater Productions on Facebook, Twitter, Instagram and YouTube.