All dogs are individuals, but each individual within a purpose-bred, or purebred, dog breed will fit into a predictable range of height, weight, shape, coat, energy level, unique talents and temperament.
Whether as hunting companions, lap dogs, guards, livestock handlers, military and police dogs, rescuers or service dogs, purpose-bred canines continue to fulfill the functions their human creators intended and more they could never have imagined.
Responsible, careful breeders screen for inherited health issues and take care with who gets their puppies (and will usually take them back if the owner's circumstances change).
It's those breeders and the dogs they love are once again celebrated as the 144th Westminster Kennel Club Dog Show returns to New York's Madison Square Garden from Saturday, Feb 8, through Tuesday, Feb. 11.
This year, the show can be watched on TV on Fox Sports 1 (FS1) and FS2 and on digital platforms. Along with the familiar competition on the green carpet in the conformation ring -- where dogs are judged against the written standard for the breed.
Here's how it all works:
There's also the Masters Agility Championship, which is open to any dog (although, in agility, it's often good to be a border collie or a Belgian Malinois).
Take a look at last year's competition:
Westminster is one of the few remaining benched shows, where canine competitors remain in and around the show area, allowing visitors to see familiar and rare breeds. Dogs compete against members of their own breed, with the winners moving on to be judged against other breeds in seven groups separated by size, type and/or function: Herding, Hound, Toy, Sporting, Non-Sporting, Terrier and Working.
Competing for the first time at Westminster this year, in the Hound group, is the Azawakh, a sighthound (a swift hound that hunts by sight rather than smell) from West Africa. It's a rare and ancient breed, but was only accepted into the American Kennel Club (AKC) Stud Book on Jan. 1, 2019.
Why did it take so long? From USA Today:
In order for a breed to become recognized by the AKC, "there must be a minimum number of dogs geographically distributed throughout the U.S., as well as an established breed club of responsible owners and breeders," according to Samantha Seymour, AKC public relations manager.
Here's a look at the Azawakh:
And here's the culmination of last year's Best in Show final, where the group winners square off:
Primetime coverage of Westminster begins with the group competitions on Monday, Feb. 10, and Tuesday, Feb. 11, with sportscaster Chris Myers, Gail Miller Bisher, the voice of the American Kennel Club, and veteran judge Don Sturz.
See the chart below to see where and when you can see all the parts of the show (all times Eastern).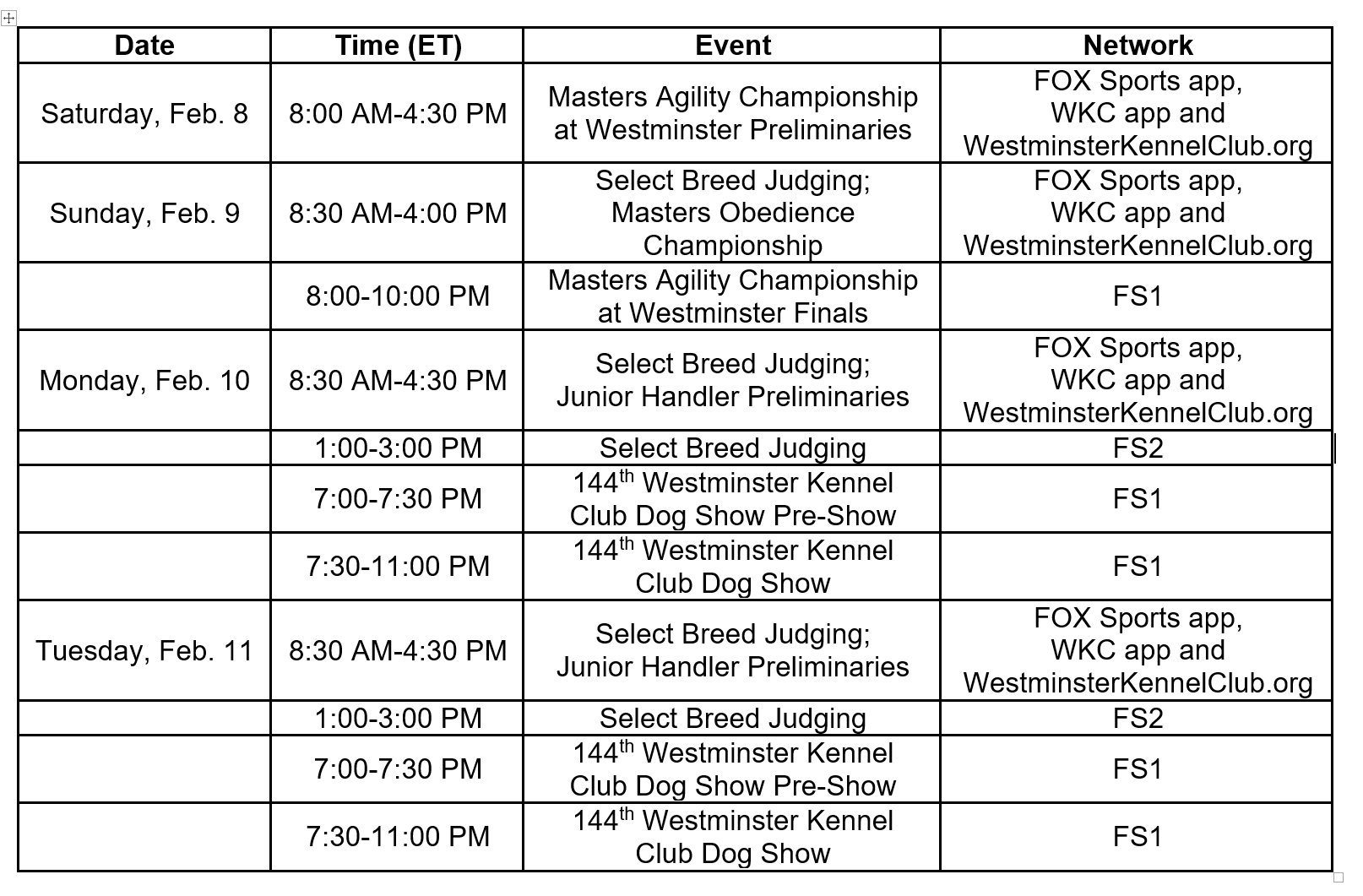 Image: Westminster Best in Show podium/Shutterstock
Kate O'Hare, a longtime entertainment journalist, is Social Media Manager and blog editor at Family Theater Productions.
Keep up with Family Theater Productions on our website, Facebook, Twitter and YouTube.