On Sept. 8, Britain's Queen Elizabeth II died at the age of 96 at Balmoral Castle, her beloved estate in Scotland -- not long after celebrating her Platinum Jubilee, marking 70 years on the throne.
The Queen and Her Church
As the British monarch, she was also head of the Church of England, created when King Henry VIII, in pursuit of a male heir, broke from the Catholic Church in 1534.
His life and that of his daughter Queen Elizabeth I have been the subject of many, many movies, documentaries and TV shows.
But, Queen Elizabeth II -- distantly related to Henry VIII through his sister, Queen Margaret of Scotland -- has had her share of screen time ... and some of it also dealt with her sincere Christian faith.
The Queen as Believer
As the head of state for a very diverse nation and Commonwealth, she trod carefully, but there was no mistaking her personal beliefs.
In 2000, she said (as quoted in ChristianityToday):
"For me, the teachings of Christ and my own personal accountability before God provide a framework in which I try to lead my life," she said in 2000. "I, like so many of you, have drawn great comfort in difficult times from Christ's words and example."
Each of her annual Christmas broadcasts has featured Queen Elizabeth II talking specifically about the birth of Christ, in contrast to the more secular descriptions of the holiday we're used to hearing these days.
In her 2016 Christmas broadcast, she spoke about her faith, and gave a nod to Mother Teresa, a k a St. Teresa of Kolkata. She also said:
Billions of people now follow Christ's teaching and find in Him the guiding light for their lives. I am one of them because Christ's example helps me see the value of doing small things with great love, whoever does them and whatever they themselves believe."
The Pope Reacts
Pope Francis sent a telegram today to her son, the new King Charles III (the first of his name since Charles II, who came to power at the Restoration of the monarchy in 1660, after the 1649 execution of his father, Charles I, during the English Civil War):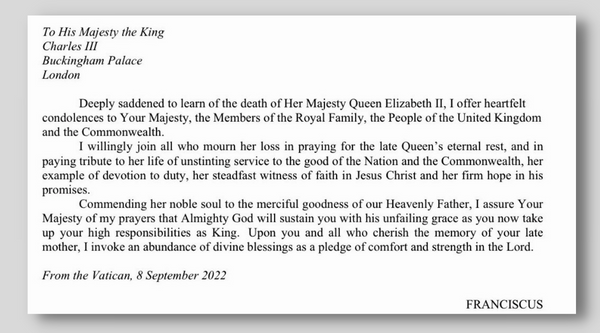 The Queen and Faith On Screen
Some of the more recent scripted productions about Queen Elizabeth II have leaned into the themes of tradition, family and faith.
The Queen (2006)
Helen Mirren won an Academy Award for her portrayal of the Queen in a film that centered on the aftermath of the death of Diana, Princess of Wales, in 1997.
In an Instagram message today, Mirren said, "I am proud to be an Elizabethan. We mourn a woman, who, with or without the crown, was the epitome of nobility,"
While the film didn't delve deeply into the Queen's faith, it did feature this exchange between the Queen and the Queen Mother (Sylvia Syms):
Queen Elizabeth II : Something's happened. There's been a change, some shift in values. When you no longer understand your people, Mummy, maybe it is time to hand it over to the next generation.
Queen Mother : Don't be ridiculous. Remember the vow you took?
Queen Elizabeth II : I declare that my whole life, rather it be long or short, shall be devoted to your service.
The Queen Mother : Your whole life. That is a commitment to God, as well as your people.
The film also wound up being a ringing endorsement of duty and tradition over cynicism and an excess focus on individuality.
Prime Minister Tony Blair (Michael Sheen) reprimands a snarky colleague, saying:
Tony Blair : You know, when you get it wrong, you really get it wrong! That woman has given her whole life in service to her people. Fifty years doing a job SHE never wanted! A job she watched kill her father.
She's executed it with honor, dignity, and, as far as I can tell, without a single blemish, and now we're all baying for her blood! All because she's struggling to lead the world in mourning for someone who... who threw everything she offered back in her face.
And who, for the last few years, seemed committed 24/7 to destroying everything she holds most dear!
The Crown (2016-)
Most notably, Netflix's The Crown -- which does take liberties in its storytelling -- has regularly focused on the deeply entwined relationship between the British royal family and faith.
In season one, the Queen's father, King George VI (Jared Harris), reflects on his coronation (a deeply religious ceremony held in an Anglican cathedral) telling his daughter:
"When the holy oil touches me, I am transformed, brought into direct contact with the Divine. Forever changed. Bound to God. It is the most important part of the entire ceremony."
In the same season, the young Queen's (Claire Foy) dying grandmother, Queen Mary (Eileen Atkins), counsels her:
"Monarchy is God's sacred mission to grace and dignify the earth… That is why you are crowned in an abbey, not a government building. Why you are anointed, not appointed."
The series also deals with the personal faith of the queen and her family.
In a season-two episode, American evangelist Billy Graham (Paul Sparks) takes his famous crusade to the U.K. The young queen (Foy, the first of ultimately three actresses to play the part at different ages) asks him to preach at the Windsor Castle chapel.
Afterwards, struggling with revelations of the misdeeds and apparent Nazi sympathies of her uncle, the Duke of Windsor, during the early days of World War II, she calls him in for a meeting.
She discusses her position as the head of the Church of England, but also her desire to be a "simple Christian."
She then asks him a theological question.
In Vanity Fair, series showrunner Peter Morgan explained:
"The Billy Graham episode is about Elizabeth wanting to deepen her Christianity," Morgan says.
"She stops reflecting on forgiveness as a central tenet of Christianity at precisely the time that she's asked whether she can or can't forgive her uncle for what he did.
"The two story themes dovetail quite nicely. It's the best bit of writing in the season. . . .
"The films of which I'm most proud I've written are the ones that pivot on forgiveness. It obviously chimes for me. It goes quite deep. I don't know why."
In season three, an episode called Moondust focuses on the Queen's husband, Prince Philip (Tobias Menzies) -- whose troubled, hearing-impaired mother became an Orthodox nun -- being transfixed by the 1969 moon landing.
His rather disappointing (for him) meeting with the astronauts sends him on a spiritual journey, taking him from general indifference to the beginnings of real belief.
As Bishop Robert Barron noted in an article on the episode:
There is so much more going on here than mere psychological insight or development—and God bless the writers of The Crown for presenting it. Throughout this episode, Prince Philip was standing on one of the great fault lines in Christianity—namely, the divide between auto-salvation and salvation through grace.
Then, in season four, an episode focused on the friendship of the Queen's younger sister, Princess Margaret (in this season, Helena Bonham-Carter), with British civil servant Derek "Dazzle" Jennings (Tom Burke). He wound up becoming a Catholic priest, and in the episode, he tries to get Margaret to convert.
Some parts of this were true, and some not, but the two did remain friends until Jennings' death.
Season 5 of The Crown, introducing Imelda Staunton as the older Queen Elizabeth II, premieres in November.
A Life of Duty and Faith
Throughout her life, Queen Elizabeth II was a public Christian. Whatever your politics or feelings about the British monarchy as an institution, it's hard not to admire her sense of obligation and service to her nation.
Despite the troubles of her children -- which took place during decades when all of society was in upheaval -- she did her duty.
As referenced by the Queen Mother in The Queen, in a speech given at the age of 21, the then-Princess Elizabeth vowed:
"I declare before you all that my whole life, whether it be long or short, shall be devoted to your service."
Here's the Queen's last Christmas broadcast, in which she talks about losing her husband, Prince Philip, and about the joys of new life,
Image: Shutterstock/Copyright (c) 2021 Alessia Pierdomenico
Kate O'Hare, a longtime entertainment journalist, is Social Media Content Manager at Family Theater Productions.
Keep up with Family Theater Productions on Facebook, Twitter, Instagram and YouTube.