The famed Tabernacle Choir at Temple Square is back on PBS on Dec. 13 for another spectacular Christmas concert, and FTP was there.
A Spectacular Christmastime Visit to Salt Lake City
As always (except for last year, because of the pandemic), the annual concert -- presented by the Church of Jesus Christ of Latter-day Saints -- that airs was taped the previous year.
Last December, FTP Senior Producer Tony Sands and I traveled to a freshly snow-covered Utah, at the invitation of cablenet BYUtv and the Tabernacle Choir (you can read more about the whole trip, and see some of my pictures, at my own blog here).
The highlight was attending the annual concert in the fabulous 21,000-seat theater, with its massive organ, part of the Conference Center at Temple Square in Salt Lake City.
This particular concert has an Irish flair, with Irish Catholic actor Neal McDonough as host and narrator, and music from Broadway star Megan Hilty, who's part Irish and married to a man of Irish ancestry.
Here's the trailer:
Meeting Again With Concert Stars Neal McDonough and Megan Hilty
On Tuesday, Dec. 6, I headed to a hotel in West Hollywood to again see McDonough and Hilty, along with musical director Mack Wilberg, and Ron Gunnell, Global Envoy of the Choir.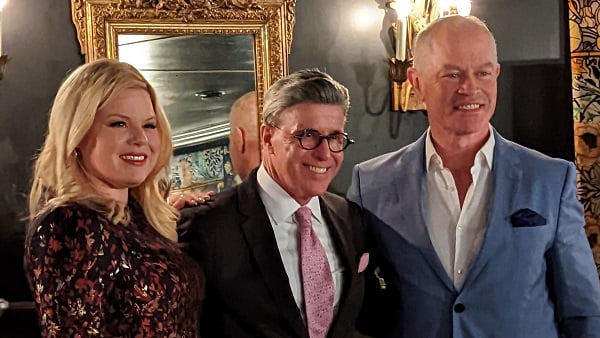 (L to R) Megan Hilty, Ron Gunnell, Neal McDonough / Photo: Family Theater Productions
Note: Hilty's sister and her family were tragically killed in a plane crash in September. Of course, the concert was taped long before that happened.
At the press conference, Hilty didn't address the loss directly, but there were times she became understandably emotional discussing the holidays.
Bridging Faiths and Celebrating Music
McDonough and Hilty were asked what stood out most for them in the concert.
Said McDonough:
"What was really kind of special for me were two things. First, to be able to bridge the Irish Catholic faith and the Mormon faith together.
"Megan being Irish, myself, being Irish, it was such an honor to be able to be the ones who were chosen to spread that story and that message that we're all in it together, and we all should be loving and understanding each other the best that we can because we're all God's children.
"No matter what we believe in, we're all God's children.
"That to me was the most magical part. To stand up there on stage on opening night and looking at it with Ruve, my five kids and having the choir behind us and where we were and what we were seeing, what we were speaking about, and talking about Jesus and our faith, it was just such a magical evening for me that I will never forget it."
For Hilty, the concert represented a return to the stage after a long break because of COVID restrictions. She said:
"This was a singer's dream to get to sing with this legendary choir. Luckily, I was lucky enough to sing with them before, so I was actually prepared for the energy of that space.
"You can't really put into words what it feels like to step out onto that stage. It is enormous.
"I think one of the greatest parts of it is standing right next to that glorious choir and almost, like. bathing in the sound. It is an experience unlike any other I've ever had."
Massive Undertaking During the Pandemic
Wilberg came in remotely, since he's busy preparing for this year's concert, taking place Dec. 15, with singer/actress Lea Salonga. He said:
"Every year, this is crunch time a week before the concert, so I'm very busy and in getting music ready for next week.
"I was thinking just recently that this particular concert will be remembered by everyone. really, for the remainder of our existence.
"First of all, we had two magnificent guest artists with Megan and Neal. Also, at that time, we were under strict COVID precautions.
"Every rehearsal and every performance, all 500-plus people had been tested before they could enter the hall, which I have to say was a mammoth undertaking. Yet, it worked, and we were able to do the concert.
"Two weeks following the taping of this concert, we were shut down again for two months. When you add this all together, this concert really was a miracle."
Irish Music, a Gospel Nativity and Keeping Christ in Christmas
While McDonough doesn't sing, Irish music is nothing new to him. He said:
When it comes to Irish music, it was always Irish music in my house, growing up. My parents were both from Ireland, so I still do this at night. I sing Danny Boy to my daughter in London every night before she goes to sleep.
McDonough also quotes from the Gospel of Luke during the concert. It's a passage that will be familiar to many, especially those who, like McDonough, are fans of A Charlie Brown Christmas.
As McDonough said to me on the day of the concert:
"It's hard to find Christ in Christmas. I've been saying, we've all been saying this.
"When you go back to Charles Schultz and you look at the Christmas special, the Peanuts Christmas special, when Linus speaks in the end about the Nativity.
"And I basically quote Linus tonight. I quote the Bible of course, but no one in network television is doing that anymore, and I have this funny feeling that things are starting to change.
"Maybe this is the altruistic side of me, this good side of me that believes that if we do more glory for Him, then life will be that much more enjoyable and wonderful for us."
Where and When to Watch
O Holy Night: Christmas With the Tabernacle Choir marks the 19th annual Christmas with The Tabernacle Choir television special, which has been the No. 1 primetime holiday program on PBS for 17 years, since it first aired in 2004.
The 60-minute program, presented by GBH, premieres on Tuesday, Dec. 13, at 8 p.m. ET (check local listings) on PBS, PBS.org, and the PBS Video app, and on Sunday, Dec. 18, at 8 p.m. ET on BYUtv, BYUtv.org and the BYUtv app.
Image (top): Courtesy of © 2022 by Intellectual Reserve, Inc. All rights reserved.
Kate O'Hare, a longtime entertainment journalist, is Social Media Content Manager at Family Theater Productions.
Keep up with Family Theater Productions on Facebook, Twitter, Instagram and YouTube.