Catholic writer G.K. Chesterton once observed, "It is the test of a good religion whether you can joke about it."

Who doesn't love some good Catholic humor? Heaven knows, we're pretty funny. But there is a difference between having fun with, and making fun of, something.
Can't quite decide where Minions: The Rise of Gru falls on that scale.
What Is Minions: The Rise of Gru About?
The fifth entry in the Despicable Me franchise, it tells the origin story of how not-so-baddie Gru met the load of peculiar yellow creatures who became his henchmen and best pals.
In this one, Gru (voice still by Steve Carell) is 12 and dreaming of being a member of his favorite supervillain group, the Vicious 6. Like Gru, they're bad, but not terribly so (they do get a bit scary at the end).
Minions: The Rise of Gru is set in the 1970s, and older viewers will enjoy the cultural shout-outs and the authentic soundtrack.
But, There's This "Nun" ...
In general, the film is charming, fun and harmless, with a good message about friendship. But, then, there's Nun-Chuck.
In the picture below of the Vicious 6, she's the one dressed as a nun, holding a nunchuck. Nun-chuck, get it?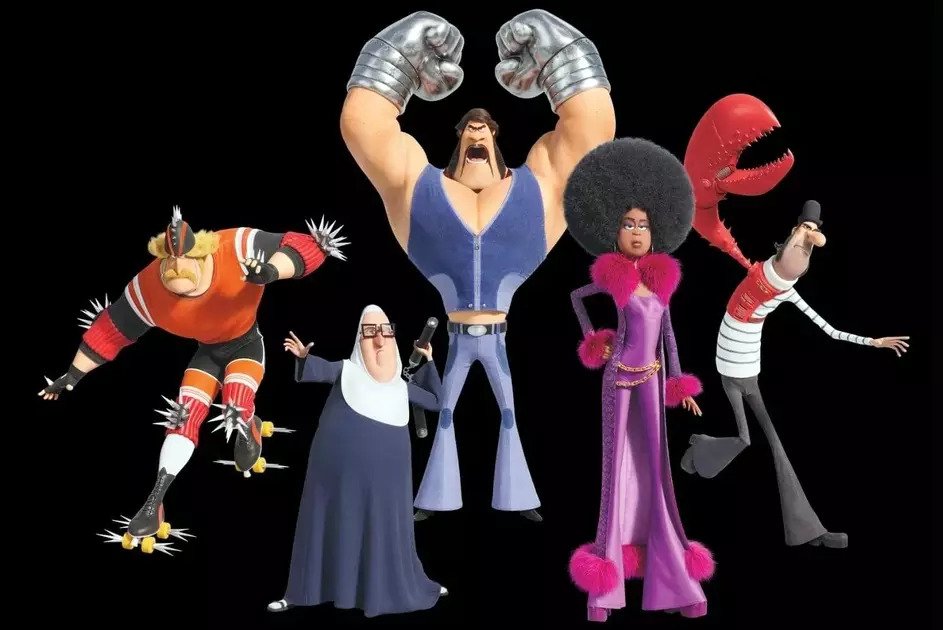 Yeah, that's actually almost all there is to the character, but not quite.
She puts her nunchuck in the shape of a crucifix, has her hands folded as if in prayer most of the time, rises up to the sound of an angel choir, and drives a vehicle that looks like a church organ.
Lucy Lawless does the voice, but she doesn't have much in the way of actual dialogue, other than shouting "Hallelujah!"
I Just Ask, "Why?"
Wouldn't be surprised if writer Matthew Fogel (or Brian Lynch, who got the story credit) just snickered at the name gag and thought it was the funniest thing ever. It's not, actually.
Also, there's a lot of martial arts and mild Eastern mysticism in the film, and they're treated with respect and good-hearted humor. Just about every sort of person depicted in the film is, except nuns.
Other than Nun-chuck, Christianity doesn't make an appearance.
Things like Nun-chuck just make me sigh and say, "Why?" It doesn't add much to the movie (but there may have been more that was cut), so what's the point, other than a quick joke?
Is it really worth throwing in something that could potentially insult Catholics, and, at minimum, force parents to explain to their impressionable littles why the nun is a villain?
Apparently, to Illumination Entertainment, it is.
Does Nun-chuck Wreck the Movie?
The movie was a massive hit over its first weekend of release, and TikTok-inspired teens calling themselves Gentleminions have even been showing up in shirts and ties.
Other than Nun-chuck, I really don't have any complaints about Minions: The Rise of Gru -- and I'm not even a Despicable Me fan.
We can all take a joke, but Nun-chuck just seems like an unforced error -- especially when she holds her weapon like a crucifix. Come on, guys, why?
The character isn't quite enough to make me not recommend the movie, but it's a close call.
While many little kids are big Minions fans -- two even showed up at the theater, dressed like Minions -- the Catholic News Service rates this one for adults and adolescents, who may be able to look past Nun-chuck and enjoy the movie's rollicking, frenetic plot.
Catholic parents, make your own judgment.
Image: Universal Pictures
Kate O'Hare, a longtime entertainment journalist, is Social Media Content Manager at Family Theater Productions.
Keep up with Family Theater Productions on Facebook, Twitter, Instagram and YouTube.