HBO has announced the start of filming on season two of its hit period drama The Gilded Age, which traces personal and family travails amid the old-money/new-money clash in 1880s New York City.
Here's the uncropped version of the first image from the new season, showing fabulously wealthy social climbers George and Bertha Russell (Morgan Spector, Carrie Coon):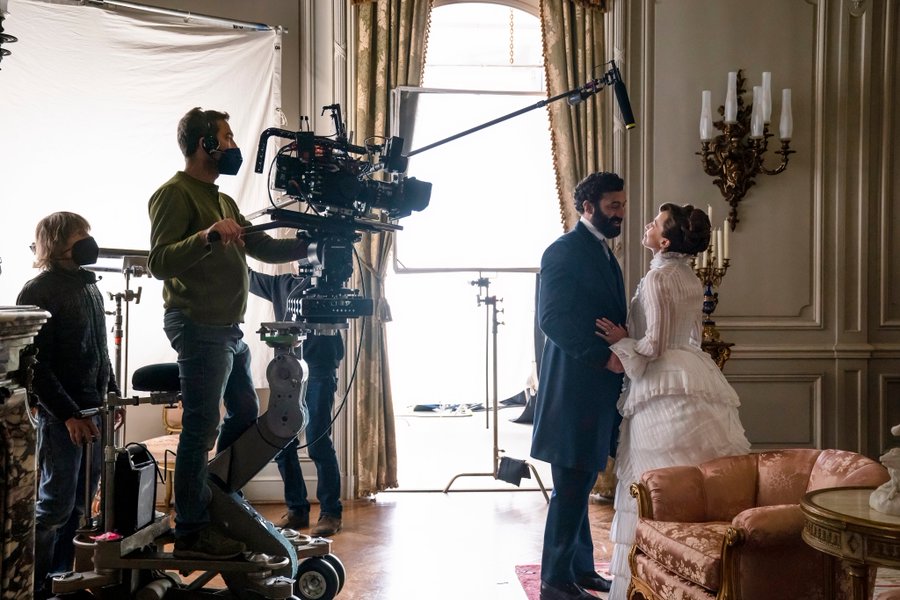 Coon had many spectacular dresses in season one, but much of her wardrobe had to hide a pregnancy. One can only imagine what the costumers will come up with now.
SEASON-ONE SPOILERS FOLLOW!
Locations Old and New (Which Are Probably Still Old)
Along with the show's sets in upstate New York, filming locations include historic homes in New York City and Rhode Island, along with preserved Victorian streets in Troy, New York.
There are rumors the show may film among the many Victorian locations in the racing and resort town of Saratoga Springs, New York. As I hail from there, I have my fingers crossed.
Who's Back, and What's Going to Happen?
Thomas Cocquerel, who played lawyer Tom Raikes, will not be returning. But, since Tom jilted poor but socially well-connected young New York newcomer Marian Brook (Louisa Jacobson) for a richer prospect, nobody really wants him back. This especially includes Marian's aunt, rich society dame Mrs. Agnes Van Rhijn (Christine Baranski).
For those keeping score, Aunt Agnes had his number as an "adventurer" from the beginning. Her sister, Ada (Cynthia Nixon), also had her doubts. As I pointed out here before, the young don't always know better in this world.
Most of the rest of the season-one cast is returning, and here's how HBO described season two:
The Gilded Age was a period of immense economic change, of huge fortunes made and lost, and of fierce rivalry between old money and new.
Nowhere is that rivalry more apparent than on East 61st Street, where Marian Brook and her thoroughly old-money aunts, Agnes van Rhijn and Ada Brook, live opposite the stupendously rich George and Bertha Russell.
The Russells are both fiercely ambitious, he financially, she socially, and they are determined to reach the highest echelons of New York.
Meanwhile in Brooklyn, Marian's friend and confidant Peggy Scott forges her own path in the world of the Black elite.
In this glittering world on the brink of the modern age, will the established rules of society prevail, or will the game change entirely?
What Do We Know (or Can Guess) From Season One?
While this description isn't enormously informative, series creator Julian Fellowes (Downton Abbey, Belgravia) has left us some threads to pull from season one.
Peggy Scott's baby: We discovered the supposedly stillborn infant is actually alive, hidden away by writer Peggy's (Denée Benton) pharmacist father, Arthur (John Douglas Thompson). Peggy and her mother, Dorothy (Audra McDonald), have headed off to Pennsylvania to discover the truth.
And whatever became of the baby's father, Elias? We haven't heard he died, only that Arthur sent him away.
Peggy and T. Thomas Fortune: Peggy has started her journalism career with the New York Globe -- and its editor, T. Thomas Fortune (Sullivan Jones), seems interested in more than just her writing skills. Hmmm...
Bertha's family: In conversations with his wife, George remarked that her mother had passed on (after remaining poor all her life), but that Bertha has a sister.
I think odds are good that an unexpected visit from this sibling (whom Bertha declined to invite to visit, when George asked) might upend Bertha's plans to continue conquering New York society.
Bertha and Mrs. Astor: The moneyed upstart and the society grand dame (Donna Murphy) came to an uneasy truce in the season-one finale, at the coming-out ball Bertha threw for her daughter, Gladys (Taissa Farmiga).
After strong-arming Mrs. Astor into attending, Bertha offered friendship, but the great lady may still have some tricks up her sleeve.
Oscar Van Rhijn: Will Agnes' fortune-hunting son (Blake Ritson) continue his double life, keeping a male lover (Claybourne Elder) on the side while pursuing Gladys for her money?
I'm rooting for him to be found out before it's too late for Gladys, but I'm not writing the show.
Watson's Mysterious Past: George's valet, Watson (Michael Cerveris), has been gazing from afar at a wealthy young woman, Mrs. Flora McNeil (Rebecca Haden).
When they finally spoke, he introduced himself as "Collier," and she became alarmed and exited.
Then, when she showed up at Bertha's ball in the season finale, he ducked out of sight.
Marian and Larry Russell: The Russells' charming college-grad son (Harry Richardson) offered Marian friendship, despite her aunts' disapproval of his nouveau-riche parents. Marian could do worse (and already has).
Aurora to the Rescue: And while we're at it, I'd like to commend the unsung hero of the series, Agnes' other niece, Mrs. Aurora Fane (Kelli O'Hara).
From the beginning, she was so dedicated to actually raising money for charity that she risked universal disapproval by inviting the rich but scandalous Mrs. Sylvia Chamberlain (Jeanne Tripplehorn) to a fundraising event.
Later on, Aurora agreed (with a bit of persuading) to help Bertha Russell in society.
She was also relatively unfazed when Peggy accompanied Marian on a fundraising trip (or, at least, she didn't voice disapproval).
Then, on the day Marian was planning to elope with Raikes, Aurora arrived at the Brook home with news of his duplicity. Aunt Ada ordered her off to Mrs. Chamberlain's to intercept Marian. Not only did she go into this forbidden territory, she thanked Mrs. Chamberlain for receiving her.
If any of this got out, Aurora would be sunk in society. So, let's hope, for her sake, that it doesn't ... but it might.
When Might The Gilded Age Return?
Season one filmed in the spring and summer of 2021 and premiered in late January 2022.
Season two is starting about the same time but films for longer, so we may be looking at a premiere in the spring or early summer of 2023.
Keep up on news at the official website here.
In the meantime, here's a look back at the spectacular finale:
Image: HBO/Barbara Nitke
Kate O'Hare, a longtime entertainment journalist, is Social Media Content Manager at Family Theater Productions.
Keep up with Family Theater Productions on Facebook, Twitter, Instagram and YouTube.