As this crazy year draws to a close, more than a few people are threatening to put the Christmas decorations up extra early and start singing Jingle Bells before the Halloween candy is eaten. TV's not usually quite in that much of a rush to start the holiday-special season, but now that it's November, TV Christmas can't be far behind.
Here's a look at some of what November will unwrap for us this year:
Here's how Netflix describes the new musical, which is the only one on this list that actually showcases faith (watch for the Bible cameo in the trailer below):
A rich and nasty woman, Regina Fuller (Christine Baranski), returns to her small hometown after her father's death to evict everyone and sell the land to a mall developer -- right before Christmas. However, after listening to stories of the local townsfolk, reconnecting with an old love, and accepting the guidance of an actual angel (Dolly Parton), Regina starts to have a change of heart. This is the story about family, love and how a small town's Christmas spirit can warm the coldest of hearts. Featuring 14 original songs with music and lyrics by Dolly Parton.
Treat Williams also stars; and multitalented Debbie Allen directs.
Buddy vs. Christmas (Food Network, Sunday, Nov. 22, 10 p.m. ET/PT)
Back in September, beloved New Jersey baker Buddy Valastro, a k a the Cake Boss, badly injured his right hand. His recovery from that will be the subject of a two-hour documentary on TLC on Dec. 23. But first, filmed before the mishap, the new series Buddy vs. Christmas (homepage here) pits Valastro, known for his cake artistry, against artists from other disciplines, including a scenic designer, a glassblower, an animatronics expert and a LEGO builder.
Each is challenged to create a design in his or her discipline that captures the spirit of the Christmas season, whether it's a life-size gingerbread house, drivable sleigh cakes, action figures, or a Santa's workshop with talking reindeer.
Judging the results are cartoonist and comedian Jason Chatfield and lifestyle blogger Courtney Quinn.
Buddy is Catholic, and wouldn't it be great if he whipped up a Nativity-scene cake? My hopes aren't high.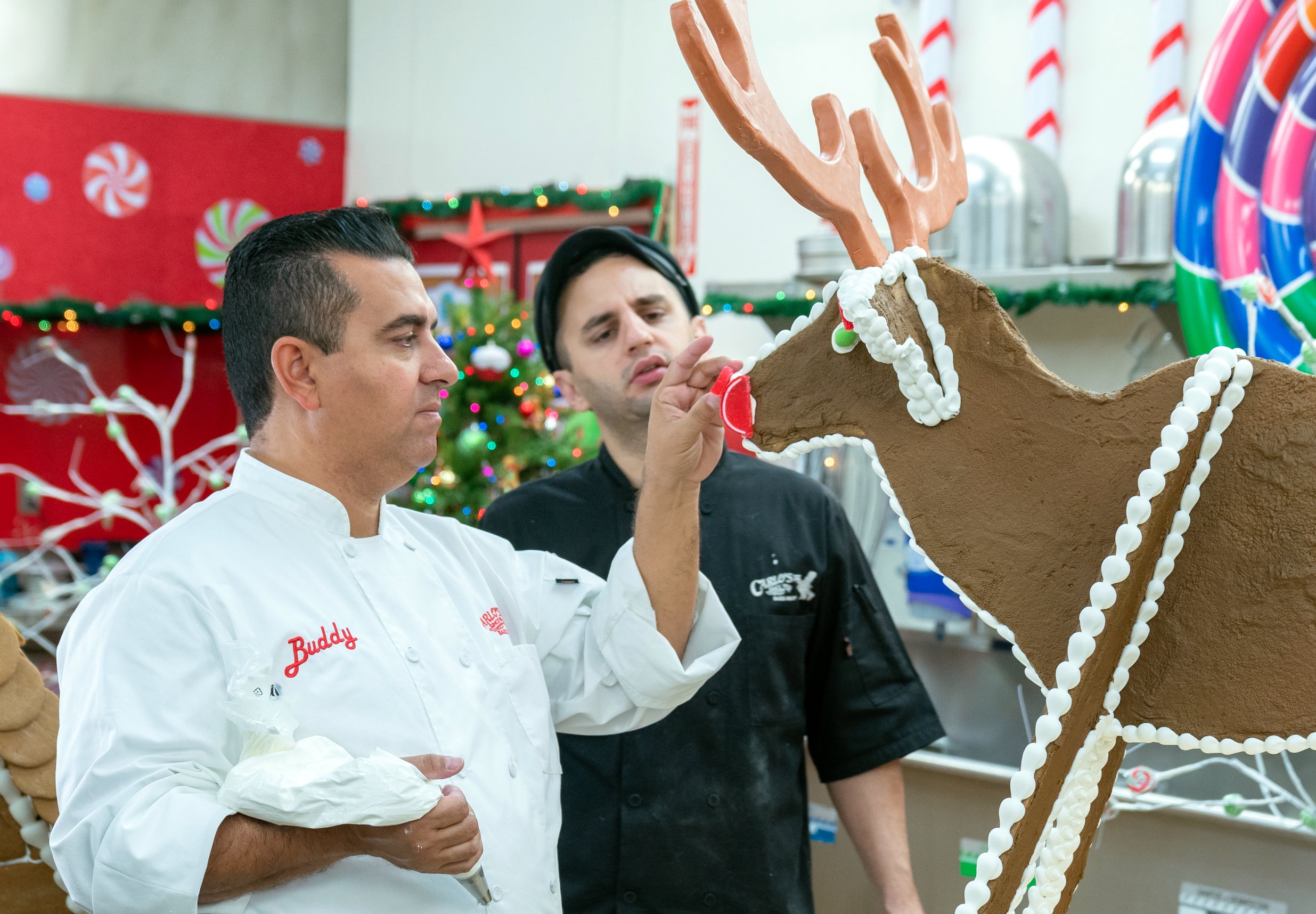 Nature: Santa's Wild Home (PBS, Wednesday, Nov. 25, 8 p.m ET/PT -- check local listings)
This beautiful hour tours Lapland, in the most northern reaches of Finland, home to Sami herders and their reindeer. It's also home to owls, grouse, wolves and mighty musk oxen. The special tracks the Lapland landscape through the change of the seasons, from long winter to vibrant spring to brief summer and briefer autumn, and then back to crystalline winter. It also dives below the sea to see vast schools of herring and their predators, especially orcas.
I watched this entire episode, and it's blessedly free of tub-thumping about climate change and the evils of humanity. We just get to enjoy the power and beauty of nature. It does feature some pagan imagery in the narration, but it's just treated as allegory.
Santa's Wild Home almost made this Southern California resident miss winter -- almost.
Time to once again share childhood classics with the next generation before somebody decides they're politically incorrect and yanks them off the air (just kidding ... kind of).
On Friday, Nov. 27, everyone's favorite birthday boy is back in Frosty the Snowman and Frosty Returns, which air back-to-back, starting at 8 p.m. ET/PT.
The more recent BBC-produced stop-motion-animation Robbie the Reindeer: Hooves of Fire (1999) and Robbie the Reindeer: Legend of the Lost Tribe (2002), air back-to-back on Saturday, Nov. 28, starting at 8 p.m. ET/PT. Among the voice talent are Ben Stiller (Robbie), Jim Belushi (Santa), Britney Spears, James Woods, Hugh Grant and Leah Remini.
Wrapping up the evening at 9 p.m. ET/PT is the 1996 animated The Story of Santa Claus, featuring the voice of Ed Asner as the jolly toymaker. Also stars Betty White and Tim Curry.
By the way, Donner is female in the Robbie specials. Poet Clement Clarke Moore, who first named Santa's team in his 1823 classic A Visit From St. Nicholas didn't specify the sex of the reindeer -- and both male and female reindeer can have antlers -- so it's not violating some canon.
Speaking of reindeer ...
Rudolph the Red-Nosed Reindeer (1964) hits TV for the 56th consecutive year (since 1972 on CBS, which digitally remastered it in 2005), with the tale of "misfits" Rudolph, dentistry-obsessed elf Hermey and hapless miner Yukon Cornelius, seeking their fortune and running from the furry Bumble Snowmonster.
Yes, after Rudolph disappears, Donner tells Mrs. Donner that searching for Rudolph is "man's work," but feminists taking umbrage may want to recall that she, along with Rudolph's little doefriend Clarice, paid no attention to him at all.
There are layers and currents in this deceptively simple story, and frankly, Santa Claus doesn't come off well, but I'd give up my Christmas tree before I'd miss my yearly viewing of Rudolph.
Here's a 1977 pre-remastering CBS promo:
Image: Netflix (Dolly Parton's Christmas on the Square)/Food Network (Buddy vs. Christmas)
Kate O'Hare, a longtime entertainment journalist, is Social Media Manager and blog editor at Family Theater Productions.
Keep up with Family Theater Productions our website, Facebook, Twitter and YouTube.