Our producer-at-large Father Vince Kuna, C.S.C., a 2016 USC film-school grad, does a regular feature here called BASED ON, looking at literary works adapted into TV or movies.
BRIAN BANKS, a film written by Doug Atchison and directed by Tom Shadyac, based on the memoir WHAT SET ME FREE, by Brian Banks.
Flying back to Los Angeles after visiting family and friends in Chicago, I neglected to bring a book with me. This oversight left me at the mercy of the airport newsstand, which usually entails being left at the mercy of the bestseller list. Fortunately, the recently published Brian Banks memoir, called What Set Me Free, caught my eye.
A big fan of football, I vaguely remembered the story of his exoneration from the early days of my moving out to the Southern California area. His story does not disappoint. The book is a classic page-turner, to the point that I did not mind a significant delay on the airport tarmac after landing at LAX.
Now that book is a film called Brian Banks, currently in theaters. Here's how press materials summarized the story:
The inspirational true story of Brian Banks (Aldis Hodge), an All-American high school football star with a full scholarship to USC who finds his life upended when he is wrongly convicted of a crime he didn't commit. Despite a lack of evidence, Banks is railroaded through a broken justice system and sentenced to a decade of prison and probation. Years later, with the support of Justin Brooks (Greg Kinnear) and the California Innocence Project, Banks fights to reclaim his life and fulfill his dreams of playing in the NFL.
Here's a look at Hodge and the real Brian Banks on the set: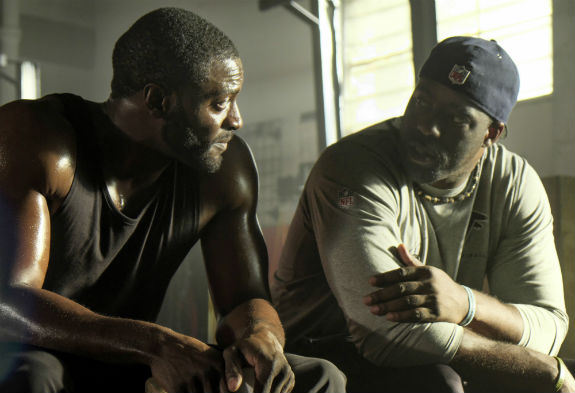 I've come to believe that the film equivalent of a page-turner is a movie you don't want to leave when the credits roll, a film that renders the characters so compelling you wish they could "live on" in a longer edited cut or at least in sequels. That said, I felt the format of an hour and half did not quite do Banks' story justice.
The actual case witnessed so many twists and turns that the material felt rushed, especially when given the exposition of the nuances in California law. The movie lead me to believe the story would have been better situated in a limited series, some version of HBO's True Detective or a new wrinkle on FX's American Crime Story series, that deals with falsely reported crimes.
The story takes place over three distinct time periods: Banks' high school days where the falsely alleged sexual assault took place, his six years spent in prison for a crime he did not commit; and his current-day struggle to clear his name. With a longer time in a limited series to peel back layers of the story, the better the adaptation of the extended, laborious legal process Banks more adeptly captured in his memoir.
Given the more accelerated format of a movie, Banks' deep Christian faith, inculcated to him by his mother, was merely given lip service. With the memoir, the reader gets a better sense of Banks' reliance on God, but also his later struggles with his faith in prison.
The reliance on something other than himself was absorbed into other characters in the film. He wouldn't have been exonerated without the help of Justin Brooks, founder of the California Innocence Project (click here for their summary of the story and the film). Brooks, in turn required the resilience of a young lawyer (played by Tiffany Dupont), who encourages him to take on (and stay on) the case.
In the case's most bizarre twist, even Banks' false accuser (the film's best performance, by Xosha Roquemore) eventually provides Brooks' team with the information needed for exoneration.
Thus, football serves as ready metaphor beyond the game, a theme only considered in the film's opening and closing. As my editor, an even bigger fan of the gridiron, reminds me, football is the one sport where you can't execute a play without the assistance of a teammate: someone blocks, someone snaps, someone holds a placekick, someone receives a pass, etc.
So, the flawed legal system (at least in California, in the opinion of the filmmakers) can still be used by well-meaning legal professionals doing the work of justice. In Banks' case, this justice effects an overdue measure of mercy.
Images: (top) Credit: Katherine Bomboy/BleeckerStreet; (embedded) Courtesy of Bleecker Street
Click here to visit Father Vince Kuna's IMDB page.
Keep up with Family Theater Productions on Facebook, Twitter and YouTube.